Youth Population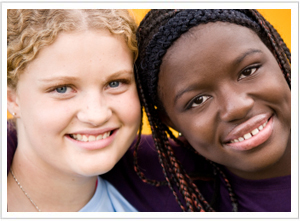 The PICK Mentoring program serves male and female youth approximately fourteen and older and who are receiving other program services through CHOICES, Inc. Most youth identified as benefiting from being matched with a Mentor would be in the custody of a child welfare-placing agency. Younger youth would also be considered based on circumstances and needs.
Mentoring matches are intended to last for one year, unless otherwise specified, and would continue even if the youth is discharged from a CHOICES program, assuming the services can continue in the youth's new setting and the treatment team is in agreement with services continuing.
For older teens planning on emancipating from care, the match would last from approximately six months prior to emancipation to six months following emancipation. This time frame is designed as another component to assist the youth in the transition from being in substitute care to living independently.
Mentor Qualifications & Responsibilities
Adults willing to be mentors will serve as an important source of encouragement and support to youth by providing experiential knowledge, developing trust and building personal relationships in order for youth to build confidence in themselves. Below is a list of several qualifications and skills that we would like our adult mentors to have. Please take a moment to review this list so you can decide if this services opportunity is right for you.
18 years of age or older and able to commit to a mentoring match for one year, some exceptions may be granted for special circumstances like college students
Able and willing to complete the orientation process, which includes training, background checks, and a personal interview prior to being matched with a youth
Dependable, flexible, and committed to meeting consistently with the youth
Willing listener, empathetic, patient and respectful of others ideas and opinions, with the ability to see solutions and opportunities as well as barriers
Support CHOICES, Inc. Vision and Mission statements and serve as positive role models.
Do not take the place of the caseworker, but assist the youth in achieving specified goals.
Willing to communicate openly with CHOICES, Inc. staff concerning any issues or concerns that arise during their time of service as a mentor.
Possess writing skills that will enable them to provide written monthly reports on the progress of the mentoring relationship(s) and activities.
Willing to provide feedback and complete a satisfaction survey at the end of the mentoring period for evaluation and quality improvement purposes.
Scope of Services
Mentoring activities will focus on various areas which many include improving social skills, career planning, employability, strengthening life skills and/or academics and will build on specific skills, talents, or interests the youth already has or would like to develop. Specific goals will be identified at the time of the match providing guidance for the mentor as to appropriate and beneficial activities.
Activities should be conducted in public areas and can include such things as:
Attending a sporting event or participating in a sports activity
Visiting a museum or attending a cultural event such as a play or recital
Assistance in locating and applying for housing
Completing job applications and practicing other employment skills
Tutoring at the library
The type of mentoring needed will depend on the youth's individual needs, and may include the following options:
Traditional, or one-to-one, which would involve four hours of contact per month
Group (1 adult and up to 4 youth) Frequency and duration of meetings will depend on the focus of the group and the desired outcomes
Team (more than 1 adult with more than four youth) Frequency and duration of meetings will depend on the focus of the group and the desired outcomes
E-mentoring, which would involve weekly communication via email for six to twelve months, documentation of which would be maintained by the mentor
Mentor Support
Mentors will be provided with on-going support by CHOICES staff. Each mentor and mentee will be contacted monthly to monitor the match and to address any questions or concerns that may arise. Support groups will be offered and mentors will be expected to attend structured continuing training sessions so they can continue to gain knowledge and ideas that will assist them in serving their mentee. Mentors will also be invited to attend agency activities with their mentee.
If you are interested please contact us at (937) 264-0084 ext. 111 or rearp@choicesfostercare.com  You will receive a packet, application and we would be happy to answer any additional questions.